For children
You have kids and you are looking for fun and cultural activities to keep them entertained during an afternoon or during holidays? Marin d'Eau Douce helps you to organize a playful activity with all the family.
Make your kids real Landlubbers
What would you think about changing your children in authentic deckhand for an afternoon? It is possible for them to discover the sailing pleasure on our electric self-drive boats.
Thanks to Marin d'Eau Douce, your kids will enjoy this activity both playful and cultural in the middle of Paris. They will be able to:
Discover the Ourcq canal's fauna and flora.
Discover the Parisian canals' history
Learn the navigation basic rules
Know the first security rules to follow aboard a ship
Our electric self-drive boats are silent, safe and reachable vessels allowed for every young sailor from 6 months old with an adult aboard.
After this playful and funny trip with your children, don't hesitate to ask for the « Landlubber Diploma »: an original souvenir that they will hang on the wall of their bedroom with pride!
For a birthday party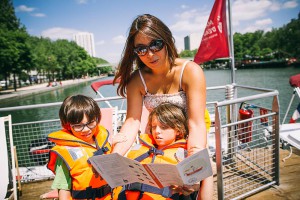 Your child is celebrating his birthday? You are looking for a playful and original activity to celebrate his birthday?
Think about changing him in a true landlubber for an afternoon aboard our electric self-drive boats and make this birthday party become memorable!
Whether for your holidays in Paris, your children birthday, for an original and playful activity or to impress your kids, Marin d'Eau Douce offers what you need!
To succeed the organisation of that family cruise, our captain suggests you our birthday hampers (7€ per person) filled up with a drink, a pastry and some candies: Success guaranteed for your birthday snack!
Welcome aboard young sailor!