For children
You have kids and you are looking for fun and cultural activities to keep them entertained during an afternoon or during holidays? Marin d'Eau Douce helps you to organize a playful activity with all the family.
Make your kids real sailors
What would you think about changing your children in authentic sailors for an afternoon? Let them discover the pleasure of sailing on our electric, licence-free boats.
Thanks to Marin d'Eau Douce, your kids will enjoy this activity both playful and cultural in the middle of Paris. They will be able to:
Discover the Ourcq canal's fauna and flora.
Discover the Parisian canals' history
Learn the navigation basic rules
Know the first security rules to follow aboard a ship
Our electric boats, without a licence are silent, very safe and accessible to children, from 6 months old with an adult.
After this fun trip surprising for your children, don't hesitate to ask for the Marin D'eau Douce "sailors diploma" that they will be proud to hang on their bedroom wall!
For a birthday party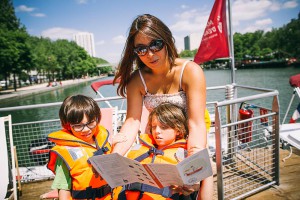 Your child is celebrating his birthday? Let him be a real sailor for an afternoon on board of one of our electric, licence-free boats.
Make his birthday a memorable moment !
Whether for holidays in Paris, a child's birthday, an original outing or to impress your friends, Marin D'eau Douce is there to answer any of your requirements!
To make this family trip even more enjoyable, the captain offers birthday hampers at the price of 7 euros per person composed of drinks, cakes and sweets. A successful birthday treat!
Welcome on board sailors !