The Founders
Marin d'eau douce was created in 2014 by Nicolas Couderc and Olivier Doin.
Nicolas and Olivier have known each other since they were playing in sandboxes and their friendship was revealed through their passion for boats and navigation.
They started their professional lives on 2 very different career paths:
In a suit and tie and clean-shaven, Nicolas advised businesses with their strategies and finances. He became a real pro with Excel tables and no longer took time for navigation!
The apron, knife and corkscrew were Olivier's utensils. He became the head of a chain of restaurants. The daily grind translated to very long days and lots of work.
Natives of Paris, they came to a quick realization: Paris enjoys a special potential for extraordinary navigation (the Seine, Canal Saint Martin, Bassin de la Villette, Canal de l'Ourcq, Canal Saint Denis), but Parisians and tourists hardly ever take advantage of it.
Their choice was limited to mass tourism on boats carrying hundreds of passengers.
What a pity!
After several successful cruises in Nantes, Amsterdam, on the Canal du Midi and in the Gorges du Verdon, they discover the charm and ease of use of Ruban Bleu's electric boats, without the need for a licence.
They temporarily abandon their neatly arranged lives to fulfil a lifelong dream to become a Captain….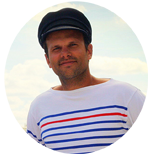 Nicolas Couderc
Graduated from Audencia Nantes School of Management
30 years, Parisian
Sailing for 20 years (pleasure, regattas…) and Canoeing for 10 years
Boating licence
Boating Paris Marin D'Eau Douce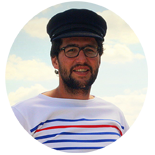 Olivier Doin
Graduated from Leonard da Vinci School of Management
30 years, Parisian
Sailing for 20 years
(pleasure, regattas…)
Boating licence
Boating Paris Marin D'Eau Douce