Discover street art in Paris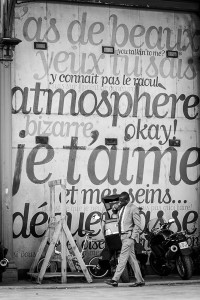 Street art, both professional and amateur, is strongly in evidence along the Canal de l'Ourcq. Additionally, the Parisian 5pointz, a former customs house where many famous artists, such as Artof Popof, Marko 93 and Da Cruz have worked, is also located near the canal. This Mecca of urban art is due to be renovated shortly and it would be a pity not to see and admire it before the work is carried out.
There are various examples of graffiti and other urban art works to be seen between the Bassin de la Villette and the Parc de la Poudrerie de Sevran.
The artist JR has started a global project called 'Inside Out' which involves taking portraits of strangers on a white or polka dot background then displaying them as posters in the streets of the world's largest cities (Rio de Janeiro, Hong Kong, New York, etc.).
The project has arrived in Paris and is installed along the Canal de l'Ourcq from the Bassin de la Villette to the commune of Sevran, which is the route offered by Marin d'Eau Douce.
Whilst enjoying the unusual experience of gliding along in one of our electric, licence-free boats you will therefore also be able to appreciate the work of these numerous artists.
Afterwards, you will get to travel on towards the Parc Bergère, where you can take wonderful photos, chill out and re-energise with a picnic.
We can provide aperitif hampers at a price of €7 per person (must be ordered in advance).
Make the most of your special day!