For a romantic stroll
Do you want to offer a special moment to your lover? You are looking for unusual and romantic places to organise a couples gateway? Marin d'Eau Douce is here to help you!
Paris is the most romantic city. What would you think about discovering the city aboard an electric, licence-free boat? Parisian canals are the perfect place to spend a daydream with your lover. Imagine : you are comfortably seated a board one of our electric boats with your beloved, enjoying a fresh champagne glass gently rocked by the water. What could be more romantic?
What a nice proof of love inviting your other half for a peaceful romantic stroll on the Parisian canals!
For this romantic boat tour in Paris, you can discover a 20 kilometres waterway upon the Canal de l'Ourcq aboard our electric, licence-free boats. You can sail along the Street Art track to discover the beauty of these unknown Parisian areas.
To make your romantic trip more enjoyable, Marin d'Eau Douce provides you some romantic aperitif hampers on board filled with drinks and appetizers (dry French sausage, cherry tomatoes, olives, salted toppings, etc.).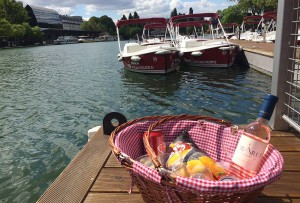 Slight extra, Don't hesitate to order a bottle of champagne!
If you want to spend some romantic time in Paris and you want to take beautiful pictures with your lover, what would you think about a photo shooting during this romantic cruise? Come and enjoy this remarkable and very romantic setting to take wonderful pictures.
Enjoy your romantic stroll!
The Marin d'Eau Douce Crew.