Your events
From its base, Marin D'Eau Douce can organise all your company events, such as seminars, team building and incentive days. These activities take place on our electric boats with a treasure hunt, an orienteering course or a boat rally.
These activities place the employee at the heart of the action in a challenging position with colleagues.
Travel with peace of mind because we organise everything!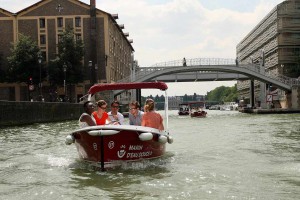 We can arrange lunch on our 100 m² terrace over the water in the Bassin de la Villette or prepare packed lunches to be enjoyed on our boats or during a break on the grass along the canals.
We can also help you with the organisation of your day through our relationships with many facilities (meeting rooms, restaurants, hotels…) and organise an awards ceremony with a cocktail or a glass of champagne.
We can accommodate groups of 20 to 200 people!
Compose your exceptional day à la carte! Do not hesitate to contact us, a project manager will advise you.
You have many possible itineraries.
Exploring Street Art: from the Bassin de la Villette to Pantin.
During this trip on the Canal de l'Ourcq you will be immersed in the world of street art. Passing near the Pont de Crimée, the Cité des Sciences and the Parc de la Villette. Discover urban and colourful creations along the route. An original way to discover Paris and this new artistic movement.
There's also the option of a treasure hunt at the Cité des Sciences and a stop at the Stade de France…
Exploring the Canal Saint-Martin: from the Bassin de la Villette to the Port de l'Arsenal. Your teams will see Paris in a new light on the quiet waters of the Bassin de la Villette and the Canal Saint Martin. Your navigation will be marked by locks and swing bridges. What could be more unusual and unexpected than a boat trip though Paris?
Options
Start from another point along the canals (Saint Martin, Bastille, Parc de la Villette…). If you want to meet your teams at your office or at the Port de l'Arsenal, anything is possible.
Awards: what better way to end the day than with prizes and personalised gifts for each participant or for the winning team.
Graffiti Tagging Workshop in front of the Hôtel des Douanes, the Temple of Parisian Street Art.
Your teams will get to draw the most representative and most original "tag"! Artists, on your marks!
Cocktail, lunch … On our terrace, we can organise breakfast, lunch or a cocktail to start or end the day and leave a lasting impression on your teams.