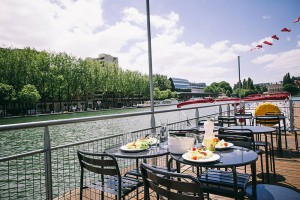 The Marin D'Eau Douce base is located on the Bassin de la Villette, between the MK2 cinema and the Passerelle de Moselle.
You can take a break on the terrace at our base and relax and enjoy the sun, before or after your boat trip.
Before or after your trip, we offer refreshments and appetisers on the terrace, such as French charcuterie, cheese, salads and tapas.
Come and enjoy this unique Parisian terrace.
We can't wait to meet you!
Book our terrace for a private function.
We can privatise bookings for our terrace for your events.
Whether for a birthday party, a corporate cocktail event or the announcement of an engagement, book our wonderful floating terrace and we will organise a unique experience on the water for you.
Please contact us to request a quote.